The idea behind this gift guide is based on the Christmas story, but it can be a starting point when choosing presents for any occasion.
Each year we try to find a gift for the whole Family as well. It means a lot to our sense of unity. It is usually one gift, but here I bring ideas in each category of the 3-gift, so you may pick one from each if you feel like.
Disclaimer: We are a participant in the Amazon Services LLC Associates Program, an affiliate advertising program designed to provide a means for us to earn fees by linking to Amazon.com and affiliated sites.
GOLD gifts
When thinking about what represents a great value to our whole Family, then things that bring us close, build the special bonds between us and teach great values come to mind. As I see, most of these ideas could fit into any and each category, so it is up to you how to implement these ideas.
I picked our top favorite board games. We own all of these games and love them. They have a special place in our hearts. I highly recommend all of them to have in the family game closet!
Catan
Winner of "Game of the Century" award! The popular game of trading, strategy, tactical skill and luck.
Your adventurous settlers seek to tame the remote but rich isle of Catan. Start by revealing Catan's many harbors and regions: pastures, fields, mountains, hills, forests, and desert. The random mix creates a different board virtually every game.
We also have the Seafarers and the Cities and Knights expansions. Both are hilarious. 
Jenga Classic Game
It's all about the blocks. Build the tower by stacking layers of blocks. Then take turns pulling just the right block. The tower might teeter, but as long as it doesn't fall you're still in the game. As the blocks head for the sky, the suspense grows. Keep the blocks balanced, and you win!
Camel Up Board Game
Welcome to the craziest camel race you'll ever see! The award-winning game about the craziest camel race just got even crazier! The race now includes new contestants – camels that are so confused that they start the race running in the wrong direction! That's not all that's new! The track has been significantly enhanced since your last visit – it now includes new art and components. So let the fun begin!
Find your way – A Christian board game
FIND YOUR WAY is a game where you have to find animals, plants and different objects from Bible stories. Where? On the roads of the network you build around the temple. Who is going to find the most objects? It doesn't only depend on luck, but also on how you find your way around the board. Making good decisions and working together will help. After all, the main aim of the game is to enjoy playing it.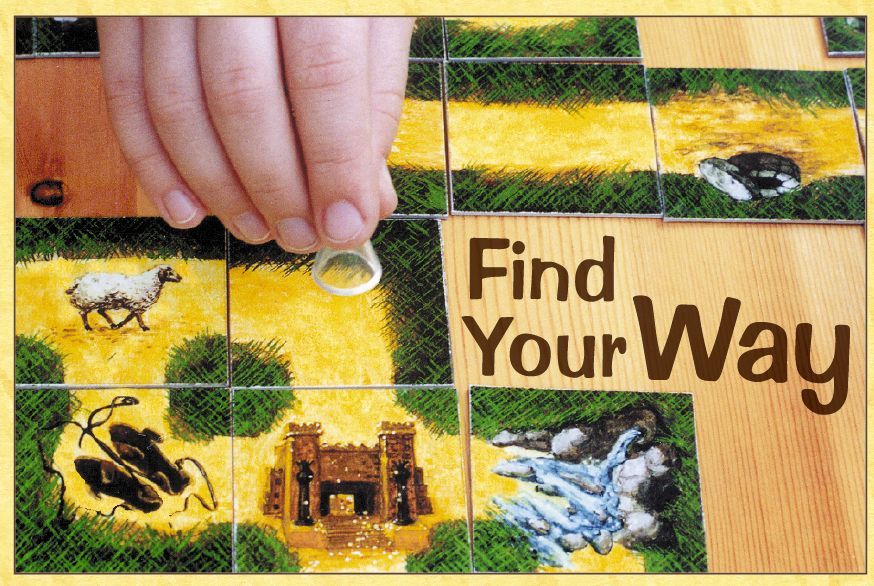 This one is a special one. One of our favorites because even our 4-year-old is very good at it. If you click on the pic you find a description, but unfortunately, it is only available in its homeland, Hungary.  The English version. Yeah, I know. Makes no sense, but what can we do? If you happen to visit Hungary, it is worth to get one.
Yard Games Kubb Game Premium Set
Kubb (pronounced "KOOB") is a Swedish lawn game said to have been played all the way back in the Viking Ages. Although the true kubb origins may be unknown, the kubb lawn game is well known throughout the world. Kubb is a unique game involving strategy and skill. This team game can be enjoyed by both young and old. It is made of durable, eco-friendly, shock-absorbent hardwood.
Toss the dowels underhand and topple your opponents kubb blocks. Topple all of their blocks, then the king and your team is victorious! Kubb is typically played on grass, but could also be played on sand, dirt, or even snow. It is perfect for any outdoor occasion. Kubb provides fun for all ages, anyone can play this game and it's perfect for getting everyone outside and active.

FRANKINCENSE gifts
All the things that help our family grow spiritually. Bibles, devotionals.
Illustrated Family Bible: Understanding the Greatest Story Ever Told
Updated and revised with new typography and refreshed illustrations, DK's Illustrated Family Bible takes a new visual approach to understanding the Bible that will inspire the whole family. Using original text from the New International Version, this richly illustrated and accessible Bible offers interpretation of the most important stories of the Old and New Testaments — from Abraham and the chosen people to the birth of Jesus and the Revelation. Superb artworks convey the drama of the Bible texts, bringing characters and places to life, while comprehensive background information, including maps and photographs, set the stories in historical, social, and geographical context. Highlighted panels explain key words, phrases, and concepts within the text, with clear chapter and verse references encouraging young readers and families to think and learn, making for a wonderful and meaningful introduction to the greatest story ever told.
52 Weekly Devotions for Busy Families
Enjoy having 52 weekly devotions packed with engaging stories, hands-on activities, memory verses, and relevant discussion questions. Flexibly designed for families with busy schedules, the easy-to-read 52 Weekly Devotions for Busy Families is the perfect way to get your whole family together for fun and memorable moments while building a personal connection with God! Transform your family with 52 week devotions.
Undivided: Living FOR And Not Just WITH One Another – 

A Family Devotional

Undivided is a 12-week devotional that is truly for the ENTIRE family. From preschoolers to teenagers to parents, Undivided teaches each family member how to live FOR and not just WITH one another. Using 12 "one another" passages in the New Testament, each chapter breaks down into 4 easy and fun sections: Learn It, Live It, Ask It, and Give It. In the "Learn It" section, your family will read and examine the context of the "one another" passage. In the "Live It" section, your family will determine how to apply the "one another" passage through a practical and easy to understand devotional reading. In the "Ask It" section, your family will answer discussion questions that will help all family members explore Biblical truths. Finally, in the "Give It" section, your family will complete a hands-on activity intended to reinforce each lesson. 
MYRRH gifts
Anything to take care of our bodies, spice up our appearance. Sport supplies, clothes, accessories.
PajamaGram Classic Matching Family Pajamas 
Fun and festive two-piece PJs include a solid long-sleeve thermal top and premium plaid flannel pants so everyone stays warm during cold winter months. The rounded neckline and long-sleeve cuffs are designed with contrast rib fabric for a touch of color and extra warmth and durability. With traditional plaid styling, the perfect set of holiday pajamas is also ideal for year-round wear, and yarn-dyed flannel ensures that colors stay bright, even after repeated washing and wearing.
CrystalTowels 7-Pack Bath Towels
To provide long-lasting strength and use throughout the years, these Crystal Towels are made using 100% cotton fabric. The material is breathable and naturally soft to the touch, extremely pleasing against your skin so you can wrap yourself in soft comfort after bathing. Practical and stylish, this set will add a fashionable, luxurious touch to any bathroom.

Spikeball 3 Ball Kit
Spikeball is a fun, active, and competitive (if you want it to be) 2 on 2 outdoor indoor sports game played on college campuses, tailgates, the lawn, yard, backyard, beach or gym with rules kind of like volleyball.